The Canadian Forces Snowbirds
2019 Theme - A Tradition of Excellence
The team will perform thrilling aerobatic shows, and breathtaking fly pasts over our nation's capital on Canada Day, and cities and towns across North America. Look for the commemorative CT-114 Tutor jet with the Canada 150 paint scheme appearing at select locations.
Following in the footsteps of the Golden Centennaires air demonstration team, formed in 1967 to celebrate Canada's Centennial, the Snowbirds are honoured to uphold their proud legacy. We are eager to inspire all Canadians by showcasing the skill, professionalism, and teamwork of the men and women of the Canadian Armed Forces.
We invite you to meet our team of highly skilled pilots, technicians, and support personnel from all over our country. Their dedication to excellence is embodied in the awe-inspiring formations of red and white jets in the sky over head.
Join us, your 2019 Canadian Forces Snowbirds, as we proudly honour our strong military heritage during this year of sesquicentennial celebrations.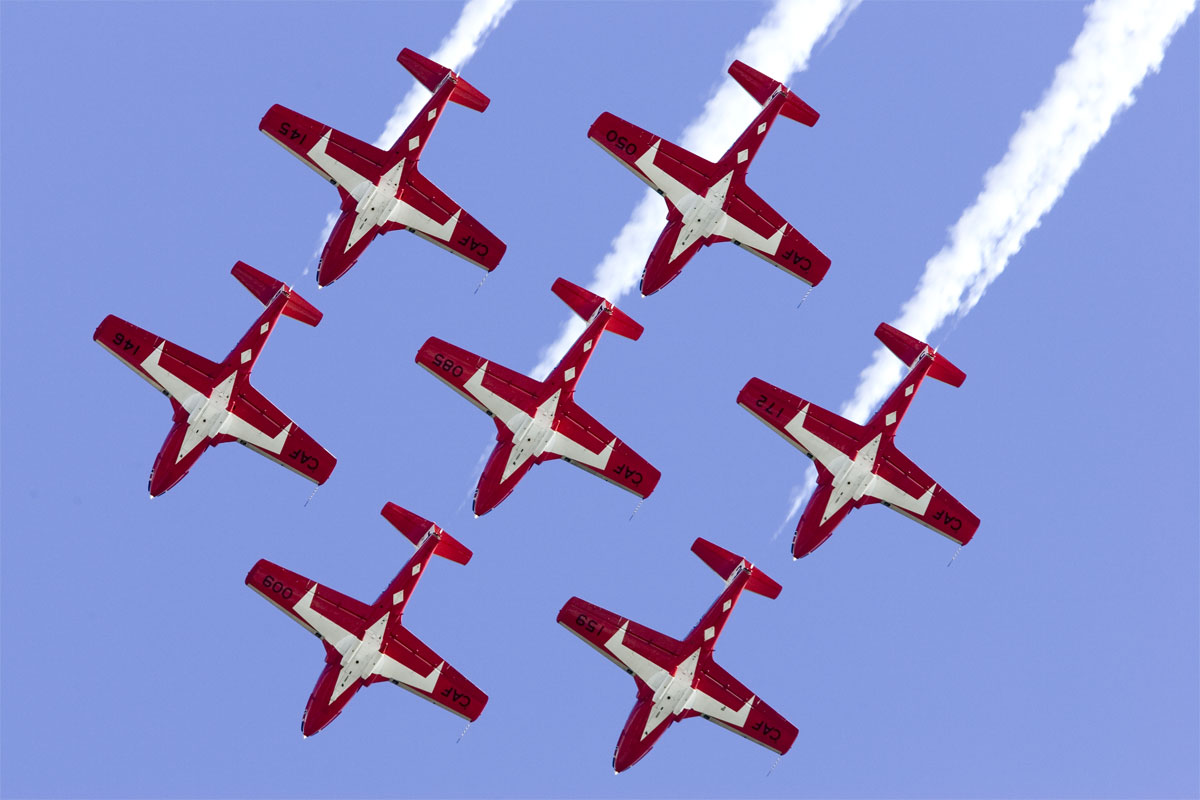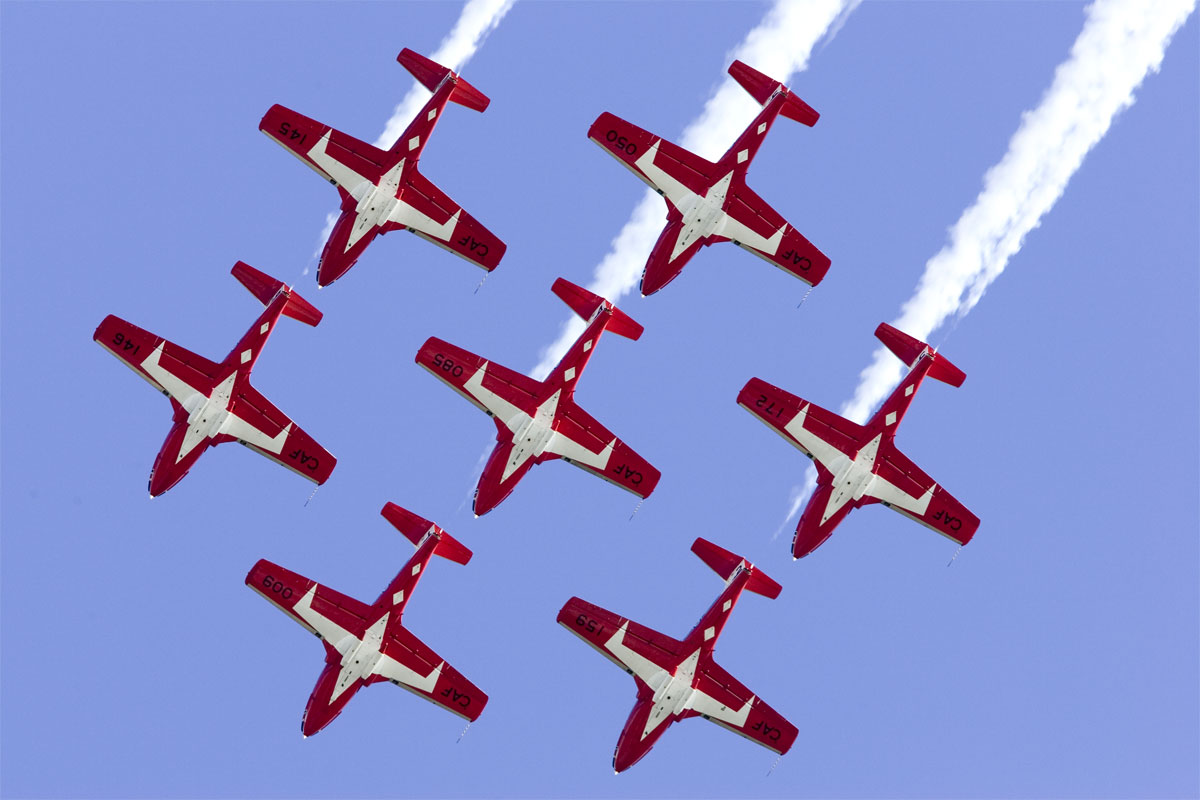 F18 Demo Team
The Canadian Force's CF-18 Demonstration Team is returning for the 2019 airshow season and we promise to deliver spectacular performances throughout the summer!

The CF-18 Demonstration Team personifies the excellence required to keep the Canadian Air Force among the best aviation organizations on the planet. The expertise and dedication required by the team, from the pilot to the maintenance crews to the coordinators, reflects the professionalism of all of Canada's airmen and airwomen.
Brent is an unrestricted, surface-rated aerobatic pilot. His airshow experience began in 2012 when he flew in the opposing solo position for the Canadian Forces Snowbirds.
Currently flying the Pitts Special at airshows across Canada and the United States, Brent also maintains a full time career on active duty with the Royal Canadian Air Force as a training and standards pilot, responsible for the Snowbirds. Brent has served as a military flying instructor and also as a CF-18 Hornet fighter pilot.
When a child dreams and wants something so deeply in their soul, anything is possible. Every detail of their life becomes aligned with achieving their goal. Family gathers in support. True friends are separated from the rest. And when born in a nation so rich with opportunity, the impossible becomes reality!
This has been Brent's story.
Born in small town Wyevale, Ontario, Brent knew from a young age that he wanted to spend his time in the air. Brent's early flight training was earned through the Air Cadet program. His first solo was in an Air Cadet glider, at age 16. Ten years later, Brent's dream of becoming a CF-18 Hornet pilot was a reality. And through a fortunate series of events, he was selected to fly as a team pilot with the renowned Canadian Forces Snowbirds jet team in 2011.
Following his tour with the Snowbirds in 2012/2013, Brent took his airshow career to the next level. Purchasing a beautiful Pitts S-2, he had the good fortune of polishing his aerobatic prowess with airshow legend Wayne Handley.
2019 will mark Brent's sixth season as an unrestricted, surface-rated aerobatic performer. Expect an adrenaline-filled, heart-pumping series of tumbles, torque rolls, and loops. The Pitts Special is THE airshow airplane to inspire young and old to pursue their passions!
Erickson Aircraft Collection
The Erickson Aircraft Collection proudly displays a vintage aircraft collection started by Jack Erickson in 1983. The collection features over twenty rare aircraft, most of which are still in flying condition. The newly named Collection will feature rare aircraft that are still in flying condition such as the P-38 Lightning, P-51 Mustang, Ki43 Hayabusa, F4U Corsair, SBD Dauntless, Grumman Duck and B-17 Flying Fortress.
For the 2019 airshow we will be witness to the thundering performances of the P40 Kittyhawk and the P47 Thunderbolt.
P-47D THUNDERBOLT
Republic Aviation's P-47 Thunderbolt was the biggest and heaviest armed single engine American fighter of World War II. Its sturdy construction and eight 50-caliber machine guns made it equally adaptive as a ground support aircraft or as a bomber escort fighter. P-47s often demonstrated their ruggedness and dependability by returning home with combat damage that would doom any other production fighter. The early P-47 couldn't match the overall performance of the German fighters it faced in combat, but it could, because of its massive weight, out dive any airplane in the sky. Republic enhanced its performance by improving the turbo supercharger effectiveness in the "D" model and replacing the razor back canopy configuration with the bubble type variant that gave the pilot 360 degree visibility. A total of 15,683 Thunderbolts were built,at an average cost of $96,000, more than any other single engine fighter of the war, the "D" model being most plentiful. The P-47 saw action in every theater proving itself to be a devastating low-level ground attack aircraft and versatile enough to be an effective high altitude escort fighter as well. With its bulky shape, the Jug was a monster of a machine, yet it was fast and maneuverable.
CURTISS P-40E KITTYHAWK
The Curtiss P-40 was a development of the radial engined P-36/Hawk 75. The prototype XP-40 was a converted P-36A with the R-1830 replaced with an Allison V-1710-19 liquid cooled V-12. First flown in October 1938, the P-40 was evaluated at Wright Field in May 1939 resulting in an order for 524 aircraft.
Early P-40s were equipped with 2x .50 and 4x .30 caliber machine guns with the .50s mounted above the engine. With the P-40D the engine mounted guns were removed and later P-40s standardized on 6x .50 caliber machine guns mounted in the wings.
Although the P-40 was best known for using the Allison V-1710, the P-40F and P-40L were powered by the Packard V-1650-1 Merlin. The V-1650-1 had a single stage supercharger so it did not have the altitude performance of the P-51 fitted the later V-1650 with a two stage supercharger.
Over 13,700 P-40s had been built by the time production ended in December 1944. Although the P-40 did not have the best performance of its contemporaries, it did have a reputation as a rugged aircraft and it was available when needed.
The P-40 is most famous as the aircraft of General Claire Chennault's American Volunteer Group - the Flying Tigers. Their P-40Bs defended China against the Japanese. P-40s also serviced in the Pacific, Middle East and Europe and defended North America in the Aleutians. The P-40 was operated by England, France, China, Russia, Australia, New Zealand, Canada, South Africa, and Turkey as well as the United States.
This aircraft was purchased direct from Curtiss by the British Purchasing Commission (i.e. it was not a Lease-Lend aircraft with a USAAC serial). It was delivered to the RAF on 6 November 1941 as AK940. It was allocated to the Royal Canadian Air Force and served with 111 Squadron. It was re-numbered to 1058 later in the war, and finally struck off charge on 16 August 1946. The aircraft also flew with 133 Squadron, was coded X and was based at Tofino, British Columbia and Sea Island, BC.
This P-40E has undergone a 21 month restoration. Originally restored in the early 1980's it was badly damaged in a forced landing in 1996. Stored for some time, it was initially purchased by Dick Thurman and subsequently sold to Tony Banta. Restoration was begun in June 2000 and it flew again on the 24th March 2002. The aircraft has made its debut at the 'Warbirds Over Wanaka' 2002 airshow.
The aircraft was another that was restored as joint venture between Pioneer Aero Restorations and Avspecs, using Pioneer's large selection of tooling.
SBD DAUNTLESS
NARRATIVE
Although eventually the most important dive-bomber flown by any combatant during WWII, the Dauntless began its combat career as a mediocre dive-bomber considered to be obsolete even before the United States entered the war. But for the Navy it was the principal carrier based dive-bomber in early World War II. This was the only U.S. aircraft to participate in all five naval engagements that were fought exclusively between aircraft carriers. Despite having been marked for retirement, the Dauntless sank more enemy shipping during 1942 than all other aircraft combined. In May of that year, SBD pilots from U.S. carriers were credited with 40 of the 91 enemy aircraft lost during the Battle of the Coral Sea. A month later, at Midway, SBDs sank three Japanese carriers and put another out of action. Their own attrition rate was the lowest of any carrier aircraft in the Pacific, due largely to an outstanding ability to absorb battle damage. Most importantly, the "Slow-But-Deadly" SBD destroyed the cream of the Japanese aircraft carrier fleet during the Battle of Midway. Considered to be the turning point in the Pacific War, it was credited with every confirmed hit on the enemy fleet. Ordered by the Navy in 1939, the first SBDs were delivered to the Marines and Navy carrier units in 1941. Some were produced for the Army as the A-24 Banshee. It also served with the British Royal Navy. Overall production of the Dauntless amounted to 5,936, yet the museum's SBD is one of only a few surviving.
SPECIFIC HISTORY
It is an A-24 Army Banshee delivered in January 1943 and used as a gunnery target tug at Lakeland Air Field in Florida. Later declared surplus, it was employed as a mosquito control sprayer by the City of Portland from 1958 until 1965. It was sold to the museum in 1994 and restored to an SBD-3 as it appears today.
team rocket
THE PILOTS
Ken Fowler
Ken grew up in British Columbia and started his aviation career by first earning his glider license in 1977. In 1978 he joined the Canadian Military as an airframe technician and worked on T-33's, CF-101 Voodoos, and CF-18's before becoming a flight engineer in 1988. Ken has built six of his own aircraft and is now building a jet of his own design. To date he has over 7500 hours of flying experience as a airline transport pilot and flight engineer. Ken served in two theaters of war, Central America and the Middle East. After retirement from the military on May 15/98 with 20 years of service he took over as the Airport Manager at Rocky Mountain House, Alberta. During his last five years with the military he toured the air show circuit with the Skyhawk Parachute Team as one of the crew members of the Buffalo aircraft. Ken has flown airshows from coast to coast, and can be seen throughout the U.S., Canada, Mexico and Central America.
Eric Hansen
Eric comes from a flying family, having been introduced to aviation at an early age by his father, a commercial helicopter pilot. Eric remembers flying, at the controls, long before he was tall enough to reach the rudder pedals (he had a little help in the turns from his father). Now Eric is carrying on the tradition with his son and daughter ages 7 and 9 teaching them to fly at this early age. A pilot for 20+ years, Eric has over 5000 hours in a variety of aircraft, over 35 different types at last count. When he's not flying, Eric resides in Cold Lake Alberta where he is a full time dentist as well as a CFI and aerobatic flight instructor. Eric owns a number of airplanes and is very generous when it comes to getting young pilots up flying. He is also an experienced competition pilot. Flying as the other half of Team Rocket Eric can be seen at airshows throughout Canada, U.S. , Mexico and Central America. This year is Team Rockets 15 season flying as a team.